Trova un ostello ovunque nel mondo ...il maggior numero di ostelli listati che in qualsiasi altro sito
Featured Destination
Edinburgo, Scozia
Edinburgh is a popular choice for visitors to Scotland. It has some stunning architecture, particularly along the Royal Mile and it is steeped in history. There are also some great restaurants and entertainment on offer around the city. piú
Gli Ostelli Piu' Votati
---
---
Travel Blog
Hostels.com has had a makeover! We've a brand new look and feel and new website features, but we still have the same great value and choice on places to stay all over the world.
More Info
If you were to hear that thousands of people from all over the world travel to a town for a huge food fight, and do it every year, you might think someone was telling you a lie.
More Info
Travel Podcast
Destinazioni Popolari
Ricerca
Con piu' di 44,224 Ostelli inseriti,noi abbiamo la lista piu' grande e piu' aggiornata del web. Clicca sulla mappa per cercare.>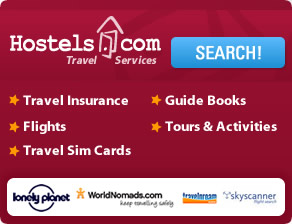 Gli Ostelli Piu' Votati
Nessuna tassa aggiuntiva
Risparmia con hostels.com. Registrati per le offerte mensili e non paghi le tasse di prenotazione.